InTone A.I™
Driving Real-time Results with In-call Emotion Detection for Call Centres
Use In Sales support to build rapport with your customer as a significant key to customer satisfaction.
InTone A.I™ enhances your call centre with the power of true insight into the authentic emotions of your customers in every single call.
And that's just the beginning...

It is optimised to serve KPI-driven call centers tasked with producing excellent sales, support, and customer success, with special tools for situations where truth matters.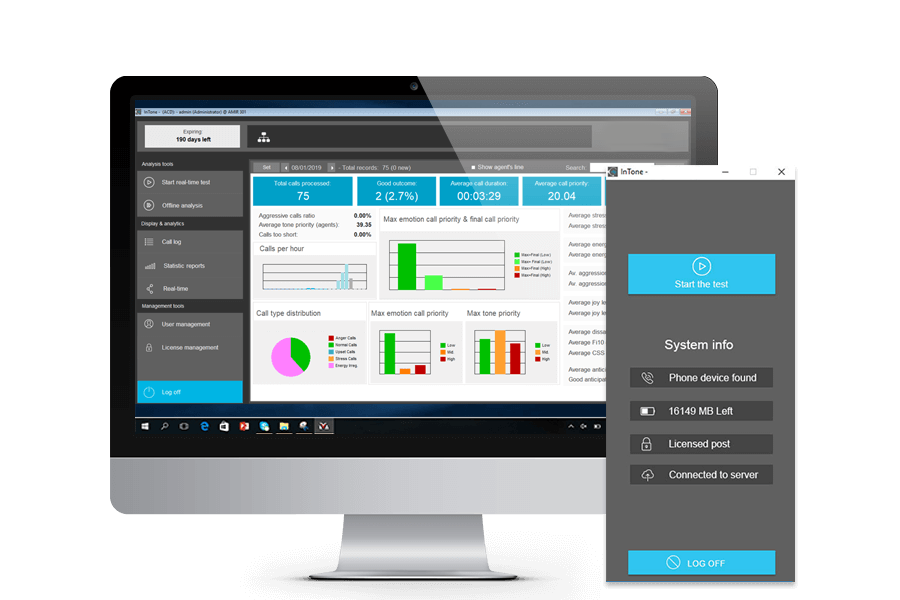 Easily Installed & Configured
The InTone A.I™ system is easily installed and configured to meet your needs. Its friendly user interfaces are readily understood by operators & managers of different levels.
Optimising Customer Engagement where it Matters
For Operators
Enhance your operators' engagement skills by easily reflecting the true emotions of their clients, during service calls or sales effort.
For Managers
Extend your supervision capabilities. Enable immediate assistance to clients and operators in need.Extend your supervision capabilities.
For Customers
Ensure customers' needs are properly addressed. Identify repeating customers' complaints and reduce your call centers' workload
The Power of Knowing for Real
Friendly User Interface
Your screen real estate is precious, that's why InTone A.I™ delivers its invaluable insights in a small floating window - and can even run in the background.
Operator's View
The operator's interfaces enable intuitive in-call understanding of the client's true emotional responses, interests and satisfaction level, as well as realtime warning signs in the risk assessment editions
Automated Process
Start and end calls analysis seamlessly. Call priority scores are automatically analysed and sent to the managers' dashboards while simultaneously being recorded and stored for later review.
Managers Interface
InTone A.I™ enhances managers' supervision abilities both in real time and by a rich set of offline tools and focused performance data. this combination of call escalation monitoring, access to emotional insights of ongoing calls and in-depth drill down into recorded calls for reporting and training purposes helps managers excel at their tasks.
Emotion Detection
InTone A.I™ uses a series of advanced algorithms to capture both operators' & customers' true emotions as well as their engagement styles.
Highly Secured
InTone A.I™ is GDPR compliant & protects personal data from end to end. Data is stored encrypted and all processing and storage is done on-premise.
Call Support Centres
Brands are measured by the quality of their service. InTone A.I™ gives customer service representatives actionable insight into their customers' genuine service experience. Enhancing your team's ability to quickly build rapport while expertly avoiding taking wrong steps during support calls is a difference maker that boosts customer satisfaction as well as representatives' well-being and sense of achievement. With the built-in set of real-time and offline managerial tools - reports, dashboards, call alerts and real-time access to emotional insights of both representatives and customers, InTone A.I™ exceeds the scope of any standard voice analysis application.
Sales Call Centres
Your brand, product or sales professionals - successful sales are all about establishing a positive emotional bond with the customer. This is a big challenge in the call center space where communication leans only on the voice. In-call emotional cues assist your sales team in understanding the customer's real needs and preferences, gauging their level of interest and overall experience. These live indications help close more deals, go from "Hi" to "Buy" in a fraction of the time, while providing managers with insights geared to optimise training for meeting and exceeding sales goals.
Lead Validation Process
Whether conducted in-house by dedicated personnel or outsourced to professional service providers - lead validation has become a standard practice geared to fine-tune sales performance. When assessing the validity of new leads, knowing the level of authenticity of your prospects' statements is critical for efficient and well-informed decision making. InTone A.I™ eliminates the necessity to guess how qualified your leads are and cuts down the "go-no go" assessment time to a minimum.
Credit Risk Assessment / Debt Collection
When you need to make money decision predicting future events, you need as much solid information as you can get. Call centers handling the sensitive task of debt collection are faced with a risky, cost-incurring decision daily - escalate a debt situation or allow the debtor more time to pay their debts? Gaining access to the genuine intentions and validating information given by the credit seeker/debtor on the spot makes it possible to quickly decide on the right course of action. With the option of adding BI or AI tools, these critical decisions turn guesswork into expertise.
Why use InTone A.I™ Call Centre?
Learn the customers' expectations and get to know their true likes and dislikes
Cost savings across all your call centre operations
Build your accurate pitch – logical Vs. emotional tone suited for the specific customer's profile
Expedite identification of key issues and sales barriers
Effectively reduce call handle time by up to 25%
Know how to approach a customer and adapt on the go based on customer's genuine reactions
Why should banks and lenders use Layer Voice Analysis to support their lending decision?
Quickly identify debtor or credit applicant intentions


Make sure your offers are understood and can be followed


Increase collection rates and prevent fraud by credit applicants


Improved decisions with minimal changes to the workflow


Frequently Asked Questions
WHAT DOES INTONE A.I™ DO AND HOW CAN IT HELP MY CALL CENTRE?
InTone A.I™ extracts and analyzes different sets of vocal properties that are indicative of genuine emotional states and unfiltered reactions. When used in the call center space, InTone's in-call indications help representatives to understand customers and their needs and adapt their engagement style on the fly. The system's invaluable insights enable a personalized and faster service, help close deals, and save time on customers that have no desire to engage. In addition, these emotional readings are routed to the manager's desk in real-time, providing valuable performance data and enabling immediate intervention when conversations are headed in a negative direction.
I AM A TRAINED MANAGER. I KNOW AND RECOGNISE AN ANGRY CUSTOMER WHEN I LISTEN TO CALLS – HOW CAN INTONE HELP ME?
Call center managers learn to identify emotional states when listening-in on specific calls. They then expertly react to resolve the situation at hand. Nevertheless, even the best managers can't have their ear on all ongoing calls. Knowing which calls to listen to is almost impossible. This is where InTone A.I™ steps in and serves as a powerful "artificial ear" that listens to all ongoing calls simultaneously and flags only those calls that may require a manager's expertise.
DOES INTONE ATTEMPT TO ACCESS VERACITY? IN OTHER WORDS, IS IT A "LIE DECTOR"?
No. InTone A.I™ can reveal many types of emotional reactions, but it is decidedly not a "Lie Detector". Advanced editions of InTone reveal what is commonly referred to as "soft-lies", for example statements like "These decisions are made by my wife.." or "Sure, I'm interested, call me later today…" But with that said, InTone A.I™ focuses on emotion detection tasks geared to improve call center KPIs, it is not intended for fraud detection. If you are interested in fraud detection, please refer to our Intone RA7 A.I™ technology solution.
WHO TYPICALLY BUYS INTONE A.I™?
InTone A.I™ was developed for small & medium call centers. As such, call center owners and decision makers, as well as system integrators serving the call center space are among InTone's most direct clients. But – any professional active in sales, lead validation, debt collection, or any other use-case that can benefit from emotional analysis of live or recorded calls can easily use InTone's abilities to drive results.
I HAVE A CALL CENTRE OF 4 SEATS, AND ANOTHER OF 400 SEATS – IS INTONE A.I™ FOR ME?
Certainly! InTone serves small to medium size call centers and you can use features that are the best fit for your needs. The system can help drive KPIs in a variety of ways; from in-call alerts just for operators, to a fully deployed solution with real-time alerts and call access to managers, enhanced with comprehensive data logs, automatic report, post-processing of recorded calls and more. From sales/support performance optimization, to preserving your team by detecting work-related stress – InTone can provide dramatic improvement of your call center.
MY CALL CENTRE DEALS WITH FRAUD DETECTION FOR INSURANCE AND BANKS. IS INTONE FOR ME?
Fraud detection requires a different toolset based on Layered Voice Analysis technology (LVA). Please visit the appropriate page.
CAN I FULLY INTEGRATE INTONE A.I™ INTO MY CALL CENTER SOLUTION?
There are different ways to integrate into your environment. As a desktop solution, InTone is installed alongside your existing setup and powers up your call center's performance without requiring complex integration or IT expertise. Based on your requirements, our team will happy to advise and assist you as you begin to work with the data that InTone reveals.
HOW LONG WILL IT TAKE TO INSTALL INTONE A.I™ IN MY CALL CENTER?
InTone A.I™ was designed for a quick, plug-&-play implementation. Depending on the size of your call center, implementation could take as little as a few hours or up to a few short days. Usability training is usually accomplished in a single hour. The InTone A.I™ solution, unlike other "emotion detection" products, requires no on-site training or generation of "key word lists". It works straight out of the box and is good to go in any language.
HOW CAN IT MAKE THE SUPERVISORS WORK MORE EFFICIENT?
In every call center scenario, statistics show that between 3% to 5% of the ongoing calls contain negative feelings. Listening to a random 5% of the calls as most call centers do, has a very small chance for a manager to stumble upon a relevant call. The result of this practice is that only a fraction of all negative calls is reviewed. Listening to the flagged priority calls which InTone A.I™ streams to the manager's desk in real time ensures that most of the negative calls can be addressed with minimal waste of the manager's time searching for these calls. Add the ability to simultaneously get insights about the customer and the representative and improve compatibility and best practices training and you get a highly efficient tool.
CAN I USE INTONE A.I™ TO MAKE THE IN-HOUSE TRAINING MORE PRODUCTIVE?
Examining calls using InTone's emotion viewers shows the exact points where call took the wrong turn, thus dramatically enhancing your ability to reflect it and approach training in a methodical, data-driven way.
Behavioural Cues LVA – Powered by Nemesysco

Want to Learn More About
InTone A.I™?
Created with